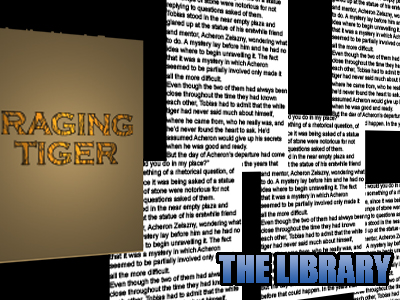 ---
This where you'll find all my attempts at writing furry stories.
Feel free to let me know what you think.
---
WARNING:
SOME OF THESE STORIES MAY CONTAIN MATERIAL OF AN EXPLICITLY SEXUAL OR HOMOSEXUAL NATURE. IF YOU ARE UNDERAGE OR LIKELY TO BE OFFENDED, DO NOT PROCEED ANY FURTHER!
---
Multi-Part Stories
The ongoing adventures of a tiger in a fantasy world.

---

A series of self-contained short stories telling the exploits of a furry gay barbarian hero.

---

A panther and a lion embark on a slightly unusual relationship.

---

The story of Jack and his exploits with hypnosis.

---

A story of superheroes and transformation.

---

A brutal incident brings a bear and a badger into each other's lives. A gay romance story.

---

A cop finds himself with a secret new career.
Short Stories
An email from an old friend leads Jonas into a new life as part of Servus Inc.

---

A one-off story of hypnotic transformation.

---

A scientist's project has developed in unexpected directions...

---

A collection of very short mind control stories.

NEW!

---

A knight sets out on an epic quest to save his world from rising evil. But it might not go according to plan...

Written for Hypno Bear Week 2018

NEW!

---

A superhero with mind control powers tells his story.

Written for Hypno Bear Week 2018

NEW!
---
The Art Gallery/The Library/The Comic Store/Links/Commissions
E-Mail me: cyberklaw@yahoo.com